Professional Writing and Content Writing in Regional Queensland | iScribe Consulting
Posted by Meredith Papas on 29 November 2017
Ever since I was a little girl I knew I wanted to be a writer and a journalist! That meant, if I survived high school, university was the go...
Posted by Meredith Papas on 25 September 2017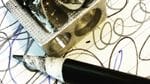 Say what you mean.
It's a simple notion; yet it can make or break a deal, partnership or business prospect.
The warmest of lea...

Follow the scribe for tips and views